When people think about Brazil, they think of Samba, beach and good vibes. And Brazil is definitely all that and much more!!! Why is the country then lesser visited than most of the other Latin countries when it comes to backpacking South America? One reason might be the price. It is generally speaking more expensive to travel inside Brazil. Another reason seems to be it's reputation in terms of safety.
When we were looking into visiting Brazil as part of our SA backpacking trip, we quickly got the impression that Brazil didn't sounded very safe (mainly due to blogs talking about their rather unlucky experiences in Brazil). We also found it hard to find useful information about the northern part of the country, which was the area that interested us most.
Regardless of these news we decided to go ahead, visit Brazil and concentrate on the North. A decision we were not supposed to regret, in fact we fell in love with this country!
We spent in total 2 months in Brazil, focusing on the northern part (from Bahia up to Fortaleza), celebrating Carnival in Rio and traveling on the Amazon river. We never had any issues or problems, the Brazilians were very welcoming and super helpful, even if you don't speak Portuguese. In short: We had an amazing time!
Have a look at this map for our itinerary. If you want to read more about the single places, simply click on the one you are interested in.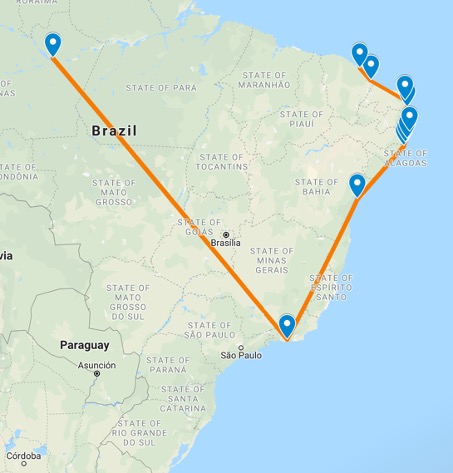 We put together some general information for you, so that you can have a good overview of what to expect when travelling in Brazil. As we already mentioned above Brazil can be pricier than most other Latin countries. How expensive a trip to Brazil get's depends mostly on you and your preferences. We managed to spend about 1000€ per month per person, all costs included (even carnival!). And nope, we didn't miss out on Caipirinhas!
Accommodation: Be aware, that hostels in the better (most popular) districts of Rio, Bahia or Recife will cost you definitely more than in Colombia, Mexico, Peru etc. You can expect to pay in between 15-20€ p. night for a dorm bed. During carnival you have to multiply this price by 3 or 4. From our experience you can save a lot of money if you choose home-stays, guesthouses and sometimes even Airbnb can be cheaper (if you stay longer, for example in Rio during carnival). Going for guesthouses most of the times made us spend on average 20€ per night (for a private for the both of us).
Food: Eating out can get expensive. There are generally speaking less markets or food truck options than in other South American countries and eating in restaurants can cost you up to 10€ per meal. Which may sound cheap to sum of you, but on a long-term backpacking trip it isn't, at least if you travel on a budget.
We cooked most of the time and ate out very seldom. If you cook you will save a lot of money, as supermarket prices are definitely lower than in Europe (especially in the northern part of Brazil). If you choose to treat yourself we highly recommend eating out in the oldtown of Bahia. Bahian cuisine is highly influenced by African culture and therefore something completely different than the meat and rice based Latin standard kitchen. Try "Moqueca de peixe" or "Bobo de camarao" if you like fish, both are based on coconut milk, which is an absolutely delicious combination.
Transport: You can of course use buses when it comes to travelling from city to city. Buses are slightly more expensive than the south American average. A bus from Recife to Fortaleza (800km) should cost you around 25-30€. A way to spend less is travelling shorter distances, as short distances can be done with public vans and tiny buses that cost way less. In order to visit various beaches in the north you will anyways be forced to take small transports, as the bigger buses don't go there. Internal flights are usually expensive.
To sum it up, if you choose to cook, eat out less, travel rather shorter distances than longer and stay in guest houses you can definitely backpack Brazil on a lower budget. We highly recommend visiting Brazil, especially the northern coastline, as it is stunning and also different to the rest of Latin America.