Ecuador is a country that doesn't attract as many tourists and backpackers as Mexico, Peru or Colombia. Why that is the case we can just guess. Probably many people associate Ecuador with mountains, and maybe mountains are not perceived as sexy as beaches.
And yes, Ecuador is a great destination for climbing and hiking fans, but it is way more than that. It's beaches are better than it's reputation and it's natural diversity is amazing, especially if you come from Europe. From rainforests over beaches, to mountains you will find all types of climates in Ecuador. And the best thing: Ecuador is home to the islands of Galapagos!!
We visited Ecuador in November and December. It is generally speaking a good time to visit the country, but the weather depends completely on the regions you are visiting. In Baños, Latacunga and Quito we had a couple of rainy days, while the weather in Guayaquil, Cuenca, the coast and on Galapagos was great. Below you'll find a map with our itinerary. If you want more details about a specific place, simply click on the one you are interested.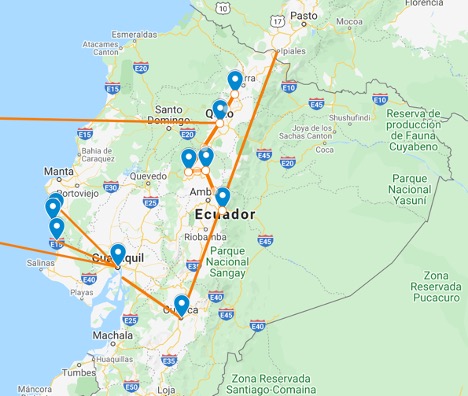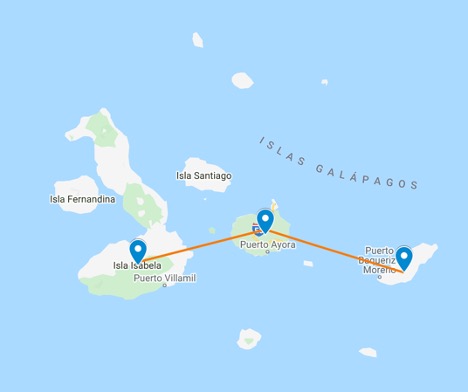 We put together some general info (divided in sections) for all fellow travelers.
Transport: The transportation system isn't as advanced as in for example Mexico. For every destination there are several bus lines to choose from, all operators will offer different prices and you have to negotiate the best deal for you. We learned that "express-bus" can mean quite the opposite and that if you are heading to a place you will have to ask in advance if they really drop you off inside the city. We got left a couple of times on the highway outside of cities, where you will be forced to take a cab to the center. The good news is that if you have a sense for negotiation, the bus rides are fairly cheap ( a bus from Cuenca to Quito shouldn't cost more than 15$).
Make sure that whether you want to purchase a bus ticket, a meal or something else to not pay with high bank notes. First of all most Ecuadorians won't have change with them (yes even if they work at a ticket office), second of all it is also a chance for someone trying to not giving you back your change (just be prepared and make sure that the person you are dealing with doesn't have a chance to trick you).
Food: The best food experiences we had at markets. In general the Ecuadorian cuisine isn't the best in South America and it is also not very diverse (that's our opinion, yours might be different). Main ingredients are rice, potatoes and meat. Don't expect them to serve you a lot of vegetables. At that time we were still eating meat, a couple of months later we started going vegetarian. A meal will cost you between 2-5$.
Accommodation: In Ecuador we paid on average 20$ for a private room in hostels, mostly with shared bathrooms. Dorms will be priced from 7-15$, as always the bigger the dorm the lower the price.
Staying "connected": If the unsteady wifi connections in hostels bother you, you can get yourself prepaid sim cards. The biggest providers are Claro and Movistar. We went for Claro. Buying a sim card will cost you not more than 5$ and charging 1GB was priced at 2$ in 2018. The reception is pretty decent in most of Ecuador, except of Galapagos, where we never had signal.
How expensive is Ecuador in general? We would say Ecuador is more or less average priced in comparison to the rest of South America. As you may have noticed all prices mentioned above are in Dollar, that's because the official currency of Ecuador is the American Dollar. In 1 and a half months we spent about 1450$ per person. That includes a 10 days trip to Galapagos, where we spent 57% of our overall expenses. We mainly stayed in double rooms and we often ate out.
Safety: Ecuador is pretty easy to backpack and we felt safe. The bigger the city the more attention you will need to pay to your belongings and cities like Quito or Guayaquil might have some areas that you should avoid at night, other than that there isn't much to worry about. The buses are pretty old and not all streets are in a great shape. Some routes can therefore be tough if you suffer in curves or of vertigo. The people are genuine and mostly helpful.
If your travel budget allows it, then try to fit the Galapagos islands into your itinerary. They are pricey, but keep in mind you are very close and it will cost you way more to come back one day for a Galapagos vacation. They can be done on a lower budget. If you are interested in our experience and how me managed to keep costs as low as possible then check out our Backpacking Galapagos article (coming soon)!