A must do for all visitors of Bolivia. It is the biggest and probably most famous attraction of the country and once you see the salt desert of Uyuni with your own eyes you truly understand why. The photogenic landscape of Uyuni is truly marvelous and in it's size and beauty surely one of a kind.
The city of Uyuni is not really a beauty, but it's hostels are cheap (dorms for 5-10€, privates for 15-20€) and the city has a small market, where you can fill up your supplies for the desert trip. There is no need to stay longer in the city than a day or two, the reason for your trip will be the desert anyways.
How much time you spend in the salt desert is completely up to you and probably also up to your budget. Tours normally offer stays of 1-3 days. With some tour operators you can even use the Uyuni trip to cross borders and go to Chile. One day trips will normally cost around 60€, while three days cost between 150€ to 200€, including meals and the overnight stays. We didn't go for a tour, but more to that later. All tours start at the "Cementerio de trenes", the train graveyard, which is actually not located in the desert, but in the outskirts of the city (20 minutes walk from the center). The train graveyard is exactly that, old trains left in the middle of nowhere. It is a very photogenic scenery, which explains why it is included in the tours. It is definitely an interesting sight, but we would like to point out that the amount of plastic trash you'll find in the outskirts and therefore right beside the train graveyard is insane. It shows that the city has a huge plastic problem, which is alarming and simply sad and this cannot and should not be ignored.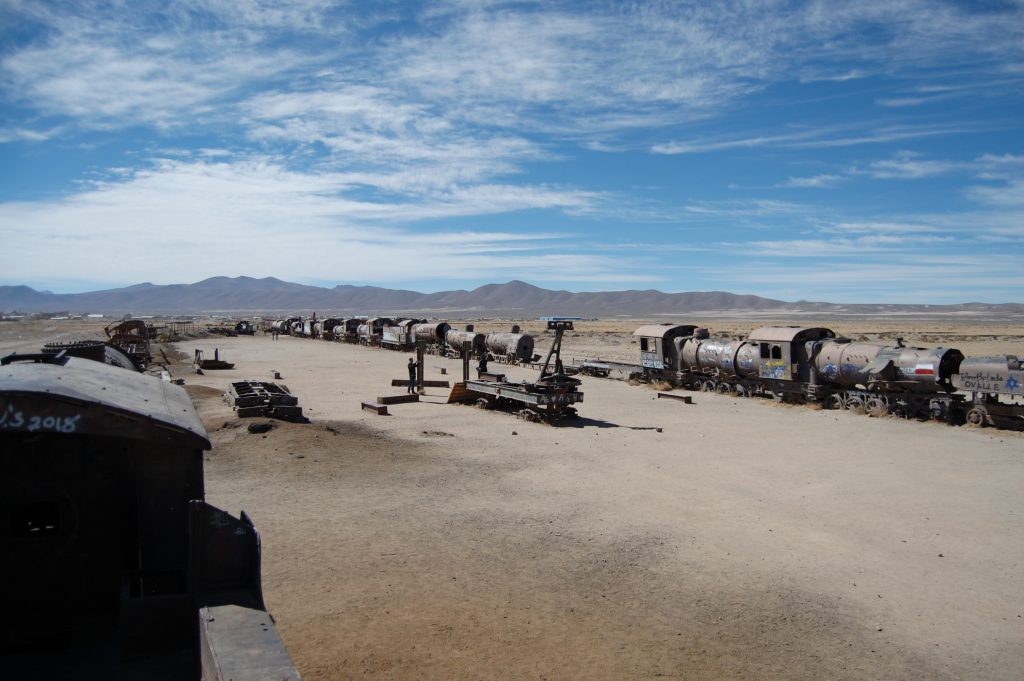 If you don't feel like a tour, which we understand and support, then you'll be happy to hear that there are 2 more options. You could rent your own van/jeep, to be completely independent, but driving the salt desert is definitely a challenge for your wheels and most locals would advise you not try.We did actually neither go for a tour, nor for renting a jeep, we hiked, hitchhiked and took the one local bus that drives once a day through the desert (it is a very old bus and not many people know about it). We are soon going to release a more detailed article on how to do Uyuni on a budget (on a very low budget).